10 Best iPhone/iPad Games for July 2013
The best gaming apps for your iOS device this month
Below, we run through the ten best new iPhone, iPad, and iPod Touch games released within the past month. All titles are playable on all iOS devices unless otherwise indicated.
1. LIMBO Game 89
Puzzle/Platform, $4.99, ages 9+, from Playdead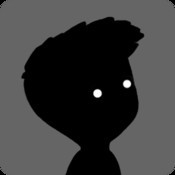 "As mesmerizing on iOS as anywhere else, Limbo is a concise and fascinating puzzle platform adventure that really sticks with you."—
MacLife
Since its original release in 2010, the indie side-scroller
Limbo
has wowed critics and gamers across multiple platforms with its stunning (and surprisingly dark) design. This is the first iOS release for the game.
From the Publisher: Uncertain of his sister's fate, a boy enters LIMBO.
---
"Plants vs. Zombies fans should stop worrying about the new F2P model. Every level in It's About Time can be solved with the plants and tools included for free in the game and it never feels unfinished or reduced. Gameplay changes are organic and improve the game experience. Even though things like the night levels will be missed, this sequel will not disappoint the fans."—
LevelUp
Though the U.S. release has been delayed for at least a month to avoid server capacity issues, this sequel to the massively successful tower defense game has been made available in a few countries (hint: create an Australian or New Zealand iTunes account), and many reviewers have published their opinions.
From the Publisher: The zombies are coming… back. It's about time! The sequel to the hit action-strategy adventure with over 30 Game of the Year awards is here. Join Crazy Dave on a crazy adventure where you'll meet, greet and defeat legions of zombies from the dawn of time to the end of days. Amass an army of powerful new plants, super charge them with Plant Food and power up your defenses with amazing new ways to protect your brain. Go toe-to-missing-toe with dozens of new zombies including Ra Zombie in Ancient Egypt, Swashbuckler Zombie on the Pirate Seas, or Chicken Wrangler Zombie in the Wild West. In every new world, clever new zombies and brain-teasing challenges will test your zombie-zapping skills. New Plant Food and power-ups will take your game to new dimensions. Plant Food will supercharge your plants when you need it most. Use your fingers to pinch, flick and zap zombies off your lawn.
---
3. Hero of Many 88
Action/adventure, $3.99, ages 9+, from Matous Jezek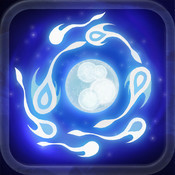 "Hero of Many is meditative and unique. An enthralling experience that is, rather than acting as a fun distraction, a game you can lose yourself and invest in."—
TouchArcade
This indie puzzle-adventure title is long on atmosphere, even if it isn't your traditional gameplay experience; more than one critic describes it as relaxing.
From the Publisher: Lead a swarm through battles for freedom in an atmospheric action adventure! Hero Of Many takes you on an epic journey as a tiny hero in a dangerous world. But you're not alone; you lead a swarm of water-beings through fierce battles for freedom across four different worlds and twenty-six choreographed levels.
---
4. Tiny Thief 86
Adventure, $2.99, ages 4+, from Rovio Stars Ltd.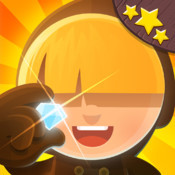 "Tiny Thief isn't particularly difficult, but its bite-sized challenges are a perfect fit for a quick session on the move and provide just enough mental exercise to blow the cobwebs away on the journey to work."—
Eurogamer

What this cute point-and-click adventure game for all ages lacks in difficulty it makes up for with charm.
From the Publisher: In a world of greed, corruption and injustice, one little guy decides to stand up for the little guy! Say hello to Tiny Thief, an unconventional hero who uses cunning and trickery to out-smart his opponents across six epic medieval adventures. But beware! He faces fearsome foes, like the Dark Knight, rogue pirates and even a giant robot! Tiny Thief brings back the magic from the point-and-click games of old, charming you with its very own visual style and offbeat sense of humor.
The game throws some seriously mind-boggling puzzles at you, with tons of surprising interactive gameplay elements along the way. So get ready to embark on an epic quest to save a princess and kingdom in peril! Six big adventures – sneak and steal your way through six epic quests, featuring an awesome pirate ship and daring castle siege! Use cunning and skill – out-smart your tricky opponents using the element of surprise and some downright sneakiness! Unexpected surprises – explore fully interactive levels and uncover hidden treasures and other surprises at every turn! Tiny Thief is ready to start his big adventure. Are you?
---
5. Magic 2014 85
iPAD ONLY Board game, free, ages 9+, from Wizards of the Coast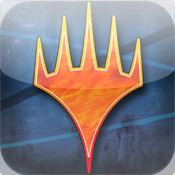 "A brilliant digital version of a brilliant card game, Magic 2014 is every bit as impressive as its predecessor and adds more to the mix, too."—
Pocket Gamer UK

The latest iPad version of the Magic: The Gathering card game is free to download and play, though the loaded premium version runs $9.99.
From the Publisher: Magic: The Gathering is the world's premier trading card game. Become a Planeswalker and travel the planes of existence unleashing a torrent of spells and creatures. Game includes: • 3 decks, each with 5 unlockable cards • Single-player campaign across the plane of Shandalar • One Planeswalker duel • Sealed Play mode; explore a deckbuilding experience Additional content is also available for purchase.
Premium content package will get you: • 7 additional decks to unlock • 250+ additional cards unlockable through play • 4 deadly opponents, including the Planeswalker Chandra Nalaar • 18 additional Campaign levels across the planes of Ravnica, Alara, Innistrad and Zendikar, plus 11 revenge matches • 10 puzzling challenges • Online one-on-one Multiplayer play • Two-Headed Giant and Custom Game modes • Access to deck key and foil conversion in-app purchases • Additional downloadable content as it becomes available
---
"It doesn't have quite the same emotional punch as Season One's lengthier story, but 400 Days does an admirable job with what it's given. If its purpose is to get us primed and ready for the second season, then mission accomplished."—
MacLife

The latest chapter in Telltale's award-winning game series based on the Walking Dead comics.
Note: The new game is available as an in-app purchase through the previously released game app Walking Dead: The Game.
From the Publisher: Centered on a truck stop on a Georgia highway, this special episode for Season 1 of The Walking Dead tells five linked stories of survival. The Walking Dead: 400 Days offers more of the horror and human drama of Robert Kirkman and Telltale's award-winning series.
---
7. Gentlemen! 84
iPAD ONLY Action, $2.99, ages 9+, from Lucky Frame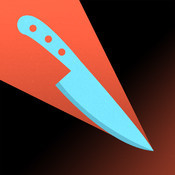 "A wonderful and unique use of the iPad. Under its smarts, Gentlemen! hides a brilliant one-on-one battler."—
Pocket Gamer UK
This two-player competitive brawler features a quirky Victorian theme. And pigeons.
From the Publisher: A Victorian era head-to-head arcade duel. Take on your friends in this frantically paced duel game. Knives, bombs, homing pigeons – choose your weapon wisely, and master the art of the gravity flip.
---
8. Riptide GP2 83
Racing, $2.99, ages 4+, from Vector Unit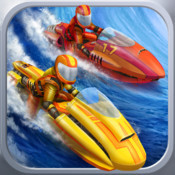 "From the outstanding water to the Career and Online play, you'll struggle to find better racers on smartphones and tablets."—
Modojo

This much-improved sequel to Riptide GP offers more jet-ski racing via solo and online multiplayer modes.
From the Publisher: Riptide GP™2 is the full-featured sequel to the premier console-quality water-racing game on mobile. Riptide GP2 kicks everything into overdrive, with intense online multi-player races, upgradeable hydro jets and riders, improved graphics, an all-new career mode, and a whole new stunt system with dozens of new tricks! Featuring rocket-powered hydro jets racing around futuristic tracks across a dynamic and interactive water surface, Riptide GP2 delivers a fast, fun, and visually stunning racing experience. From Vector Unit, developers of acclaimed racing games Riptide GP, Beach Buggy Blitz, Shine Runner, and Hydro Thunder Hurricane!
---
9. Dungeonism 83
RPG, $1.99, ages 9+, from Jeffrey Fal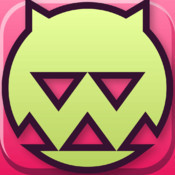 "So for everyone who's always wanted a hardcore gaming experience on a mobile device, while still maintaining that simplicity of design and addictive short bursts of gameplay, then Dungeonism is most definitely the dungeon crawler for you."—
Gamezebo

This turn-based, roguelike-like dungeon crawler features a striking modern design.
From the Publisher: Dungeonism is a turn-and-tile-based dungeon crawler. It's not quite a roguelike, but it is rogue-ish. Taking equal inspiration from Pac-Man and Temple of Apshai, Dungeonism combines the strategies of turn-based RPGs and tile-based arcade games into a single unique gameplay style. It is engrossing enough to be played for hours, but its turn-based rhythm makes it easy to play in short bursts.
---
10. League of Evil 3 83
Platform, $1.99, ages 9+, from Ravenous Games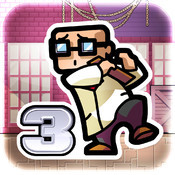 "A fitting climax to the punishing trilogy, League of Evil 3 is precision platforming at its most ruthless."—
AppSpy

The third entry in the platforming series could be the most challenging installment yet.
From the Publisher: Get ready for the GREATEST platformer with the most responsive controls to hit the App Store yet! The award-winning and critically-acclaimed platformer for iOS is back again! The Agent and his "bad-guy turned good guy" chum are back for more tough as nails platforming with the series that redefined touch screen mobile gaming.
The Metascore for iPhone and iPad games is an unweighted average of individual scores given by professional game publications on a scale of 0 (bad) to 100 (good). A Metascore of 75 or higher denotes generally positive reviews, while 90 or higher indicates universal acclaim. Scores are not calculated for games with fewer than four reviews.
A few to avoid
Based on the movie of the same name, Pacific Rim is the month's lowest-scoring game, at 49. Other low scores include Samurai Shodown II 57 and Call of Mini: Zombies 2 58.